Click here if you are having trouble viewing this message.

May 2022
*Note: Our office will be closed on Memorial Day Monday May 30th,
however, we will have Emergency support service available. *

Check out our latest blogs for great information to help protect your key business assets.

Phishing scams: how to spot and avoid them
When the Russian Federation invaded its neighbor Ukraine in late February 2022, it didn't take long for fake donation requests in support of Ukraine to flood popular social media sites, email lists, and fraudulent webpages.  These fake donation requests almost always request the donation via cryptocurrency (Bitcoin, Litecoin, Ethereum, etc.
The importance of IT security audits
IT security is an ever growing concern in today's world. It's more important than ever to give serious consideration to cybersecurity measures to avoid cyberattacks and data breaches. Regularly performing an IT security audit ensures your organization stays up-to-date and protected.

Microsoft has introduced a new way to deploy Windows Virtual Desktops (WVD), Windows 365 Cloud PC. The new service promises to remove the complexity associated with deploying traditional WVD or Virtual Desktop Interface across an organization. Microsoft is pricing this offering in much the same way as their other products, using an as-a-Service model of monthly billing per user.

Disability Hack: Accessibility in Microsoft Outlook
Email is so much a part of our everyday lives. We use it to schedule meetings, confirm sales details, and plan events. But what if traditional email setups just don't work for you because of your disability? For those with visual impairment, squinting at a screen can be a real challenge.

Safeguard your social media accounts
When you think of protecting corporate data and devices, you know your IT department has everything protected, right?  How about your marketing team's social media accounts, used to build and support your brand? Is anyone thinking to safeguard your social media accounts?

Sales Reporting and limitations in Salesforce vs. Dynamics 365
Reporting and sales process defining are key elements to measuring success and identifying trends for sales strategy. There are a few limitations that are revealed in comparing Salesforce to Microsoft Dynamics 365 Sales Enterprise. Salesforce activity forms are great out of the box, but when a sales team desires to leverage a custom activity report...

Modern App Designer for Model Driven Apps
Microsoft's Modern App Designer for Model Driven Apps is in preview and arriving soon.   This new editor is a complete overhaul of the editor you may be used to using for your model driven apps, which will soon be labeled the "Classic App Designer" and likely deprecated thereafter. 

What's new in ClickDimensions update 12.4?
If you're a fan of ClickDimensions, you know that there are frequent updates and changes to the product meant to enhance the usability and functionality of the application. As of April 26th, the new version is available to all regions - US, CA, AU and EU.  Read on for the changes in this version...
Webinars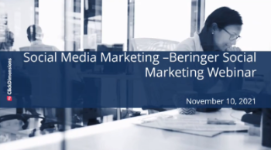 ClickDimensions Social Marketing
Co-presented by Beringer Technology group and ClickDimensions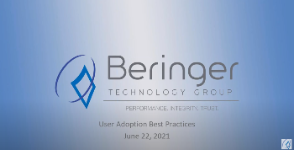 Presented by Erica Foley,
Director, Project Management Services
Beringer Technology Group
Good News From the Beringer Team
BTG Employee of the Month 
for March 2022
was awarded to:
Frank Campanella
Technical Services Representative
BTG Employee of the Month 
for April 2022
was awarded to:
Matt Williams
Implementation Specialist
Bryan Botz
to the role of
Implementation Specialist
Cory Young
to the role of 
IT Projects Coordinator
Santosh Abraham
to the role of 
Technical Services Representative
Richard Laguna
to the role of 
Accounting Implementaion Specialist
Tyler Smiley
to the role of 
Techical Services Representative
Beringer Technology Group

Named as one of the Top Cybersecurity Companies in New Jersey
by NJBIZ Lists
Beringer Technology Group
612 E. Woodlawn Avenue, Suite 200, Maple Shade, NJ 08052
Phone: 856-325-2800
Decker Wright Corporation, a Beringer Technology Group Company
461 Oak Glen Road, Howell, NJ 07731
Phone: 732-747-9373
Click here to change your Subscription Preferences or unsubscribe.